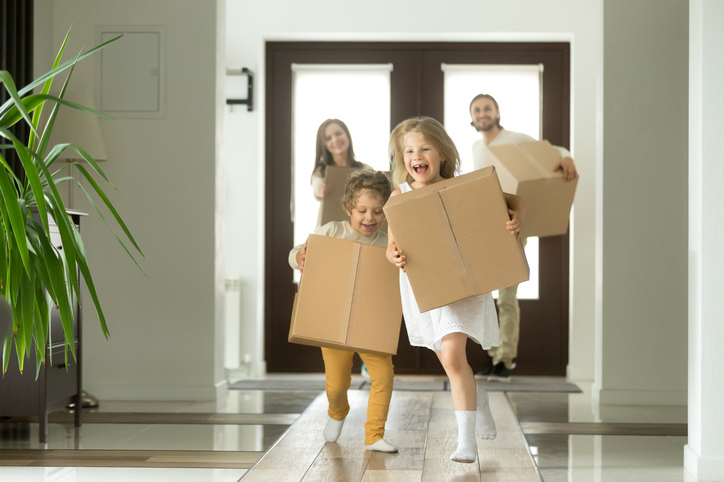 Moving house can be both exciting and stressful for your family, especially for your kids. But moving with children can be easy and stress-free with these simple but effective tips:
Keep your kids informed
Don't wait until the last minute to tell your kids about the move. Give them enough time to get used to the idea. It's a big change for them, too, so be understanding, no matter what.
Before you move, you can drive around the new neighborhood with your kids to show them around. Introduce them to fun places like parks and toy stores so they can have something to look forward to. Keeping your kids informed will lessen their anxiety and make the move a lot easier.
Get your kids involved
Involve your kids by thinking of ways they can help out. Let them pack their own toys, make them help label boxes, or have them sweep after you've packed furniture so that they will feel like they have a part to play. You can also let them choose the color of their new room or the kind of decorations to put up. Giving them control over some things will make them look forward to the move.
Make packing fun
Make packing fun for your kids! Give them points or rewards like stickers for every box of their stuff that they pack. You can also give them cute cartoon labels so that they can help in sorting out items and keeping everything organized.
Move during summer break
If you have kids who are in school, it would be a good idea to postpone your move until the end of the school year. Waiting until summer break makes relocating easier for your children. For one, they wouldn't have to catch up on school work. Also, attending a new school at the start of the school year will give them a better opportunity to make friends.
The weeks leading to summer break will also give you more time to do the required paperwork that comes with transferring schools. You can even ask for a tour of the new school with your children's new teacher or principal to help your children cope faster.
Don't disrupt their routines
Observe established routines you have with your kids. Keep their nap schedules, meal times, bath times, and bedtimes as consistent as possible during and after the move. This way, they will still feel like they have a sense of control in the new environment.
Always keep calm
One of the most important things to remember when relocating with kids is to keep calm. Your children will look to you for guidance during new experiences like moving. Showing signs of stress could make your children anxious about the move. Try to appear calm and collected to let your kids feel that moving is not a scary experience.
Thinking of moving to Wisconsin? Get to know the best real estate options in Ashland, Washburn, and Bayfield! Give By the Bay Realty a call at 715-682-7337 or send an email to jstricker54546(at)gmail(dotted)com.