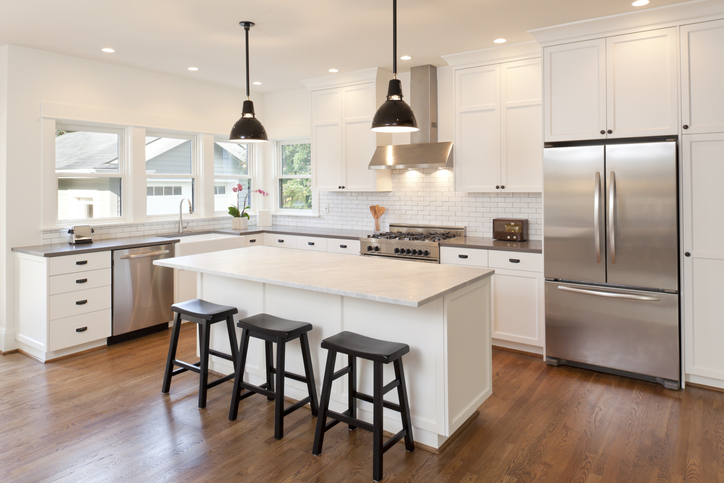 So you've seen kitchen islands and are ready to design your own. Great! Islands are a wonderful addition to a kitchen and add a lot of style to a home. But before you set out to build, make sure you don't make these simple but costly mistakes.
Not building to your kitchen's design
The design of the island itself is only part of what determines how effective it is. Another factor that's just as important is the style of kitchen you have. Islands, being centrally located, work best in kitchens with only one or two walls. The open space allows for easier navigation around the island and the room itself. That doesn't mean a four-walled kitchen can't have an island, though. You'll simply need to reduce the size of the island to ensure the room won't feel too crowded.
Not designing around your chairs
Building your own kitchen island can be a great creative experience. But it can also leave you feeling foolish if, after you've constructed the island, installed the utilities, and have everything running smoothly, the chairs you have don't allow for easy seating. Knowing what chairs you want to use beforehand and incorporating their height into your plans can save you a lot of frustration and embarrassment.
Mismatching your island's looks with your kitchen
First and foremost, your island should serve a purpose. Whether it's a place to eat, a place to prepare food, or both, function should always come first. But don't allow that focus to distract you from making sure the island has visual appeal and complements the style of the kitchen. You want a smooth, consistent look to bring the whole room together.
Wheels without locks
Though not common, some prefer smaller kitchen islands with wheels so they can easily be pushed to other areas of a kitchen, perhaps to extend a countertop or to simply get it out of the way during a social function. One major weakness of this style lies in the wheels themselves. If the wheels and the weight of the island make it too easy to move around, it could bump into things when you move it around. If you want to use wheels on your kitchen island, use casters that come with locking mechanisms to help keep the unit in place.
Improper lighting
Your choice in lighting depends on what you want to use your island for. If you aren't picky, your current kitchen lighting is probably sufficient for cooking and eating. Additional lighting, however, will make for a safe cooking environment. You can work dimmer switches into your plan if you want to adjust the amount of light you need as you cook and when you eat.
An effective kitchen island design requires careful planning. Knowing what you want to use it for and how it complements the room are key to the process. It may take longer, but the extra preparation will ensure you get the most effective use out of your design.
If you're looking for homes in the Ashland, Washburn, and Bayfield areas of Wisconsin, call By the Bay Realty at 715-682-7337 or send an email to jstricker54546(at)gmail(dotted)com today.