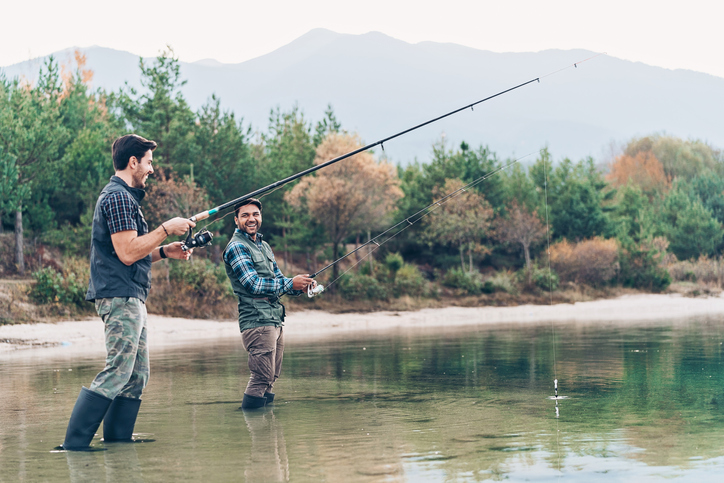 If you are a beginner at lake fishing, be prepared to "get hooked", but expect to make a few mistakes, as well. While much of your knowledge will eventually come with experience, there are certain things you should know and can do now to point you in the right direction.
Know your seasons
Different fish are more or less active at different times of the year. In the spring, when fishing for trout and salmon in the Wisconsin area, for example, you should try and fish from the shore as they will be in the shallows. Similar conditions can be found in the fall. In the summertime, though, the water will be too warm for them and they will head to deeper water.
Choose your bait
Quality bait is important in catching fish of any size or type. Fishing bait vendors stock a range of baits, but anglers have to choose which will best attract the kind of fish they are targeting. The right bait also depends on the time of the day and the season.
If you're a beginner, and you're in the right spot, you could try fishing for bluegill because they are not too fussy when it comes to bait. Any small insect will do just fine. Catfish are another specie that are good for beginners because they like almost any kind of food.
Natural baits, such as leeches, crickets, maggots, worms, and crayfish, are good bait options because they're less expensive and can be found easily.
Monitor the weather and temperature
Weather can have quite an impact on fish's habits. For example, they tend to eat more when the weather is hot. This can be beneficial if your timing is good, but when the fish have already eaten too much, it will be difficult to get a bite. On the other hand, on windy days, some fish tend to go nearer the shore to find food, and that can mean a bountiful catch for you.
Check the weather forecast before you set off, and take into account how the weather has been in the past few days. If it has been consistently hot, chances are, the fish have fed more than usual. You might just have to wait for the temperature to drop before you go out fishing. Learn more about how the weather affects fish's feeding habits and adjust your strategy accordingly.
Know where they're hiding
Many fish species don't like to swim out in the open where they can be picked off by predators. Instead, they look for places to hide out of sight. Try to learn about features in your favorite fishing spot where fish can hide, such as underwater structures or fallen trees. Certain predatory fish like pike can also be found in reed beds where they lie in wait for their prey. If you can, get some tips from seasoned anglers in the area on where the fish may be hiding.
Enjoy yourself
Regardless of how many fish you catch, fishing is an opportunity to get out into the open. Don't let your day be spoilt by disappointment at not catching anything. Fishing takes plenty of practice and experience so it will usually not go well at the beginning. You will get there eventually, but for the meantime, just enjoy yourself.
Fishing is one of the many outdoor activities that await you in Northern Oregon. If you're moving to the area, we can help you find the best outdoor spots, as well as some great real estate options. Give us a call at 715.682.7337 or email us at jstricker54546(at)gmail(dotted)com .