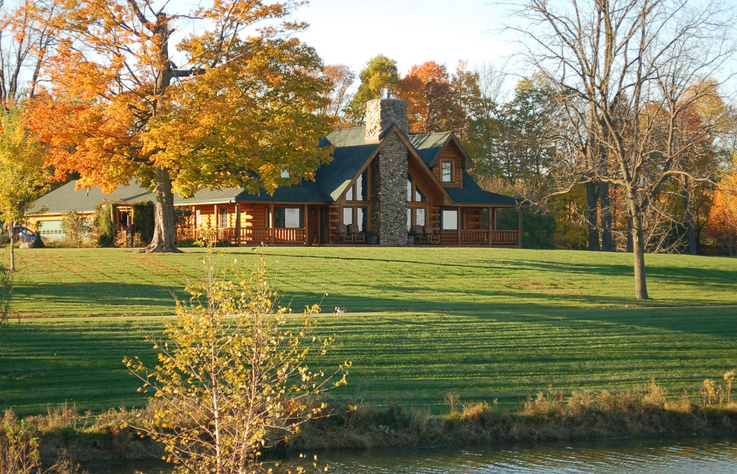 Us Sconnies love the water, in every form. Well, we could do with a little less snow from time to time, but other than that, you can't keep us away from the water.
We grew up fishing in rivers and lakes, spent our summers on Wisconsin beaches, and learned to ice skate on frozen ponds. We even have the capital city of waterparks, Wisconsin Dells, or as we call it, "The Dells."
So, to us living on the water is as natural as breathing. But, not everyone is like us, so we've spelled out our top 7 benefits of living in a waterfront home.
Panoramic views of the water has to be first on the list. There is nothing more spectacular than watching a sunrise or sunset over the horizon. Especially when the water is calm, you get a reflection that is simply breathtaking. During the daylight hours you can appreciate the colors of water, sky, beach grass while watching the wildlife.
Outside entertaining is a part of life in Wisconsin's summer. A waterfront home provides the ultimate backdrop for your summer BBQs, and stargazing. Imagine a huge deck full of tables and chairs for a front row seat of the sunset on our Inland Sea.

You can have your own private dock. Even if you don't own a boat (yet), your friends can park at your house when they arrive traveling by boat. That and you can fish from it, swim up to it, and lounge on it. Ashland is close to Madeline Island, and the Apostle Islands, two top destinations for recreation via boat.
A private shoreline for you and yours. Not every waterfront home includes a private beachfront, but there are some, and let us tell you, they are magnificent.
Waterfront living is about serenity and fun. You need space for both, so acreage often surrounds homes on the water. You can camp at your own home, create walking trails, and if you're really lucky find property with fruit trees and berries to pick.
Then there is the potential for rental income. Waterfront homes are the ultimate summer destination for Wisconsinites and out-of-towners from all over the world. If you're looking for passive income, or can't make it to the lake every day during peak season, renting out your house is a good alternative.

Are you a lover of natural light in your house? Do you long for the perfect angle of the sun to shower your great room with sunbeams? We do. Living on the water is all about the view, which means lots of windows. Let the light shine in.

Have you dreamed of a house on one of our 15,000 lakes? What about a cabin on a river? We're so fortunate in Ashland to be right on the Chequamegon Bay of Lake Superior, but we never take waterfront living for granted. It's still a joy to kayak around the Apostle Island when the snow melts.
The next time you're in Ashland, stop by our office at 112 Vaughn Ave, Ashland, Wisconsin 54806, or call us. The office number is (715) 682-7337. We would love to show you what waterfront living is all about.