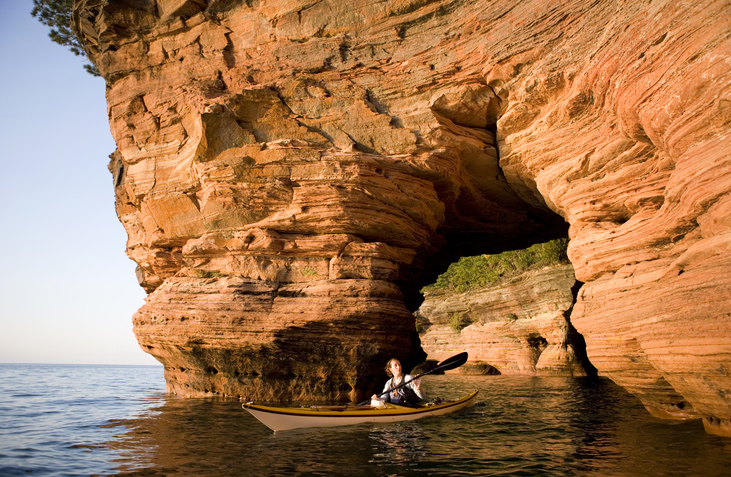 Bayfield has long been known as one of the most popular beach spots in the Great Lakes region and in Wisconsin specifically. What was once a simple fishing village has become a popular tourist destination in the summer months. But despite the size of this town – which is less than one square mile – there's much more to Bayfield than lounging on the sands.
What to do
Kayak through incredible sea caves
Take, for instance, the Apostle Islands National Lakeshore. The chain of islands has a lot of unique sights. Cruises that pass by the islands are always popular, but the real treat is kayaking tours. Groups of kayakers regularly venture out to the islands and paddle their way through their incredible sea caves. With pristine waters and dreamlike rock formations, the caves are unlike anything you've ever seen.
See the historic lighthouses
With Lake Superior within reach, those looking for more active water outings can have their pick of freshwater fishing, sailing, and also scuba diving. Ferries make regular trips out to the islands as well, with many opportunities to see and explore historic lighthouses. Bayfield has the largest number of lighthouses of any location in the United States – nine, scattered across six islands. Leisurely ferry tours lasting anywhere from two to three hours give you enough time to enjoy the islands while still leaving you with an open itinerary.
Go on a dog sled race
Understandably, Bayfield sees the most visitors during the summer months. But winter provides a unique experience, too. The Apostle islands host dog sled races for the truly adventurous.
Explore Mawikwe Bay's awesome ice caves
When Lake Superior freezes, there's a chance to explore the awesome ice caves of Mawikwe Bay. However, it can be difficult to plan around this phenomenon. Sometimes the lake freezes as early as December or it could be as late as February. Even then, how long the ice remains thick enough for people to walk on is another variable. If you really want to see the ice caves, your best bet is to take an extended vacation.
Where to stay
Speaking of vacations, Bayfield has great lodging options year-round.
Bayfield Inn
The inn is conveniently located in the downtown area and offers guests easy access to local shops and restaurants. The hotel also gives guests a pass to Bayfield's rec center, which includes everything from an indoor pool to a gym and skate park.
Brickyard Cottages
For something closer to nature, Brickyard Cottages is a series of cabins sprawled across 70 acres, with numerous walking trails leading to nearby Lake Superior. Each cabin is designed to fit four people comfortably. While the lodging offers privacy, it also gives you wonderful views, with many overlooking Lake Superior.
When to go
If you want to enjoy Bayfield, WI without the crowds, your best bet is to book your trip in late August when the summer tourists return home, or in winter. But, whatever the season, Bayfield has something for everyone beyond its lovely beaches. Why not plan a getaway and see for yourself?
While you're in town, you might want to check out the Bayfield area real estate. For assistance, call By The Bay Realty at (715) 682-7337.